ACCC Advisory Council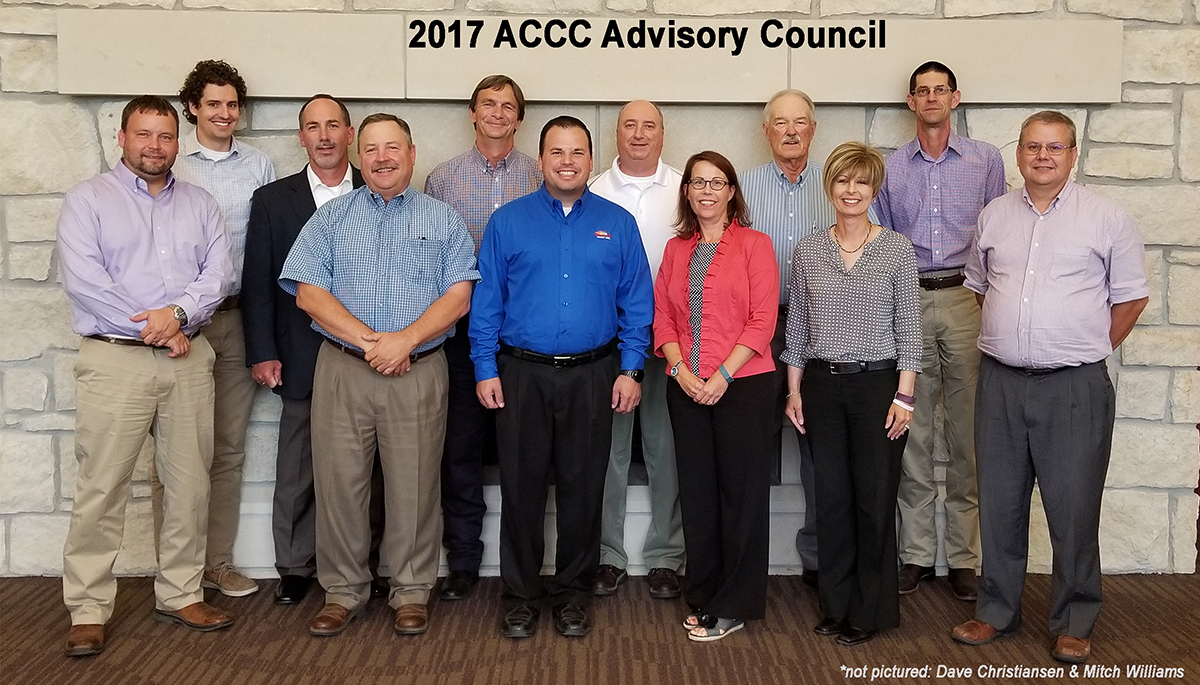 The ACCC Advisory Council is comprised of cooperative and university leaders who provide suggestions and guidance for the Arthur Capper Cooperative Center's cooperative education program. Pictured above (left to right): Brian Briggeman, Nathan Hendricks, Travis Ball, John McClelland, Terry Kohler, James Jirak, Dave Lemke, Leslie Kaufman, Kent Stamper, Christine Wilson, Ron Benson and Allen Featherstone. Not pictured: Dave Christiansen and Mitch Williams
ACCC Advisory Council History
The Arthur Capper Cooperative Center has been fortunate to have so many different Advisory Council members who have been able to serve for a number of years. While these members gave stability to the Center, new members were constantly added who brought new ideas to enhance the Center's educational program.
The Center is grateful for the advice and expertise of its members and acknowledges the contributions they have made to the organization. Because of their support, the Center is able to continue its growth and looks forward to increasing its activities to further cooperative education.
Appointed by KCC
*Anderson, Paul, 1984-1985
Andra, David, 2000-2004 (deceased)
Axtell, Jim, 1997-1999
Benson, Ron, 2014-present
Ball, Travis, 2017-present
Blick, Dennis, 1993-2012
Breeding, Patrick, 1988-1989, 2003-2006
Brill, Dave, 1999-2000
*Broeckelman, Bob, 1984-1985
*Carpenter, Byron, 1984-1993
Cashier, Dan, 2015-2016
Caviness, Don, 1985-1986, 1987-1988
Christiansen, David, 2004-present
Clubine, Irv, 1996-2003
*Dooley, Jim, 1984-2005
Dyer, Tony, 1997-2004
Eck, Steve, 1986-1987, 2003-2012
Eilert, Allen, 2006-2012
Fenner, Mark, 2012-2012
*Foulks, Harley, 1984-1990
*Francis, Darwin, 1984-2005
Gabehart, Charles, 2014-2015
*Gwin, Fritz, 1984-1994(deceased)
Jirak, James, 2016-present
*Kantola, Nancy, 1984-1985 (deceased)
Kaufman, Leslie, 2008-present
Koehn, Ron, 1993-1994
Kohler, Terry, 2004-present
Lemke, Dave, 2013-present
Lieber, Joseph, 1986-2003 (deceased)
Lynch, Marvin, 2007-2008
Magette, Steve, 2008-2010
McClelland, John, 2006-present
Morrison, Gary, 2000-2003
Needham, Ed, 1987-1988
Nichols, Dennis, 1986-1987, 1988-1989
Pesek, Mike, 2005-2012
*Rapp, Galen, 1984-1985
Ray, James, 1995-1996
Rogers, Lynn, 1989-1992
Schlickau, George, 1994-95
Schmitz, Regis, 1994-1995
Sherrick, Don, 1986-1996
Stamper, Kent, 2006-present
Strecker, Junior, 1989-1990
Studebaker, Dave, 2010- 2012
Taylor, Edward, 2012-2013
Temaat, Sylvester, 1989-2000
Ulery, Byron, 1991-1992, 1995-2005
Williams, Mitch, 2012-present
Woodard, Alan, 2012-2016
York, Bill, 1992-1993
Appointed by KSU
*Barton, David, 1984-2011
Bernardo, Daniel, 1995-2005
Boland, Michael, 1997-2010
Brester, Gary, 1993-1997
Briggeman, Brian, 2012-present
Buller, Orlan, l993-1994
Crespi, John, 2001-2015
Duncan, Steven, 1989-1992
Featherstone, Allen, 1992-present
Fox, Sean, 2006
Hendricks, Nathan, 2016-present
Johnson, Marc, 1986-1992
*Kelley, Paul, 1984-1988 (deceased)
Lambert, David, 2009-2013
*Manuel, Milton, 1984-1985 (deceased)
*Phillips, Richard, 1984-1988
*Riley, John, 1984-1988(deceased)
Schroeder, Ted, 1989-1993
Schurle, Bryan, 1989-1991, 2007-2008
Stiegert, Kyle, 1994-2001
Wilson, Christine, 2011-present
* Founders and members of the first Advisory Council in 1984-1985.