ACCC
*Mapping Project* Check out the Interactive Maps that show cooperative and non-cooperative grain locations: http://accc.k-state.edu/map.html *note: The maps were updated on July 11, 2023 and include the latest mergers, storage capacities and locations.
*2023-24 Cooperative Scholarships Click here to learn more about the cooperative scholarship recipients and their co-op connections! If you're a current student, be sure to fill out the K-State scholarship application by March 15, 2024.
*Fact Sheet 21 - Director Skills Gap Research Series Paper 4 (PDF)
Fact Sheet Series: https://accc.k-state.edu/research/fact_sheet_series.html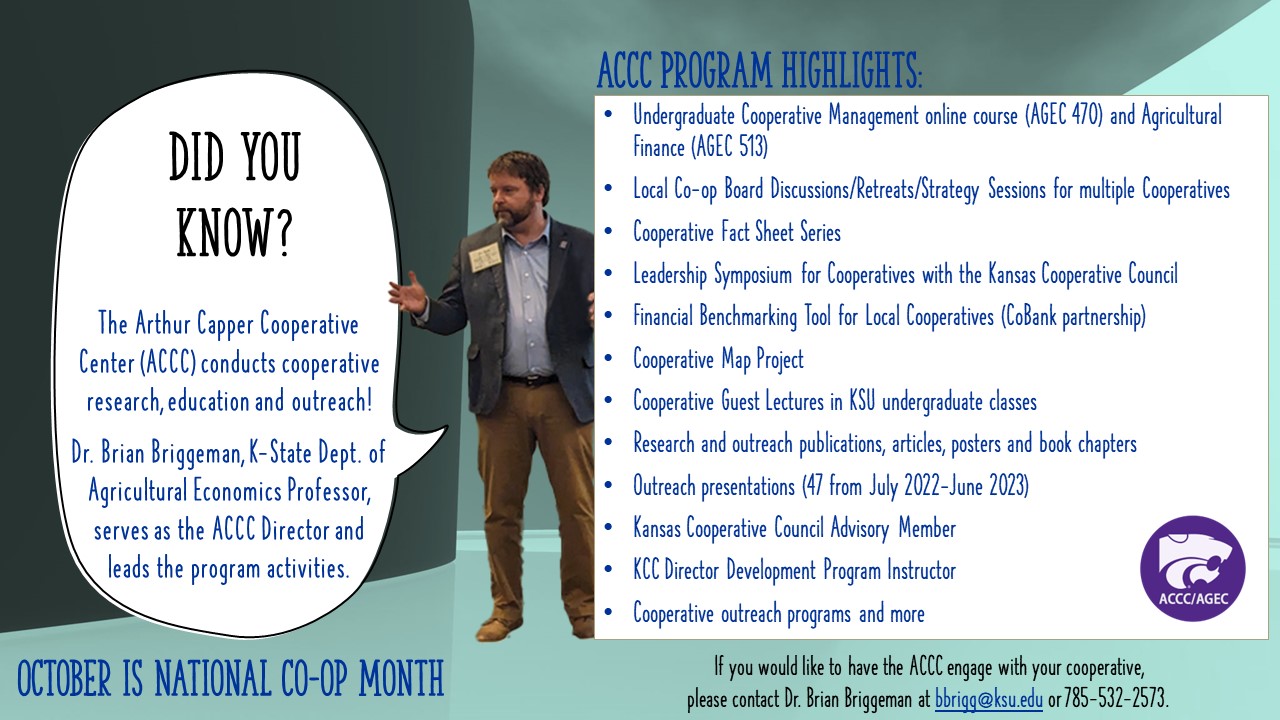 ACCC History: It's a work in progress but will be sharing historical photos and videos related to the ACCC. Includes the video created by the Kansas Cooperative Council with help of the ACCC from the Kansas Cooperative Hall of Fame Induction Ceremony where Dr. David Barton, ACCC Director Emeritus and Professor Emeritus of the Agricultural Economics Department, was celebrated for his career as an educator, consultant and cooperative executive.
The Arthur Capper Cooperative Center (ACCC) is a public-private partnership between the Department of Agricultural Economics at Kansas State University and the Kansas Cooperative Council. Our purpose is to determine, develop and deliver research and education for the cooperative community. We fulfill that purpose in a variety of ways: